Muscle pain is a very common problem. The definition of disease is the pain from the muscle contraction, which is a lack of blood supply and show pain, not only in the muscle itself but also causes numbness, muscle weakness and autonomic nervous system disorders such as dizziness, blurred vision, tearing, conjunctivitis.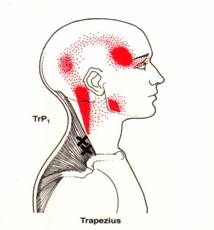 This disease is more common in women than men about 2.4: 1, maximum age is common in age of 31-50 years and more found in core muscles group such as the neck, back, shoulder blades. If ignore and no treatment, it can cause chronic pain, depression and difficult to treat.
Factors that aggravate symptoms.
- Acute injury (Macrotrauma) as car accident with whiplash injury lead to neck & shoulder spasms and dizziness.
- Chronic mild injury (Microtrauma) as poor posture in long time eg. neck protusion, round shoulder, shrug shoulders, lift object in fault position.
- Stress (Psychological stress) and rush to work.
- Chronic disease (Chronic illness) such as cervical nerve, scoliosis.
- Diseases of the endocrine glands such as menopause, thyroid disease.
- Minerals and inadequate nutrition such as vitamin, folic acid.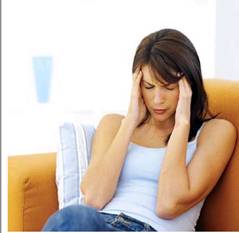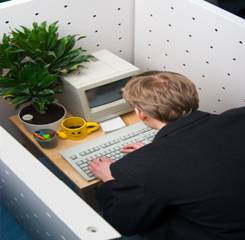 Diagnosis.
1. Local pain on compression area (Regional pain).
2. Palpable small knot (Taut band).
3. Reproducible refer pain as numbness, dizzy, radiate pain.
4. Limit the movement of the muscles that cause those symptoms.
Treatment
- Stretching exercise.
- Massage.
- Relaxation technique.
- Dry needling puncture for release trigger point.
- Xylocaine injection in local area.
- Physical therapy : hot pack, ultrasound, traction, etc.
Long term treatment and prevent recurrent.
- Postural training in every positions (sit, stand, walk, lifting object, push & pull the objects).
- Proper ergonomic design : desk, chair, work station.
- Exercise in specific muscle groups : emphazise in the upper back and shoulder muscles to withstand the office work.
- Find the cause and fix the factors that cause them to prevent a recurrence.
- (Read more in our article. Group of occupational diseases: office syndrome).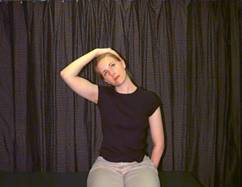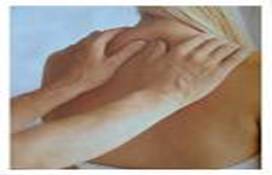 The difference between the western and eastern acupuncture.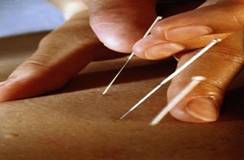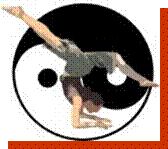 Western Acupuncture (Dry needling puncture).
Dry needling puncture is specific into the contractile muscle, which is a lack of blood supply and cause pain, resulting release of the muscles and re-arrangement of muscle fibers, including raising the blood to make it even better conveying of waste arising out of the muscles. And has release of potassium from muscle strains that relief of pain.
The advantage is a very good result in muscle pain from muscle spasms, loosen the knotted muscles.
After dry needling may have soreness in needle area after about 1-2 days. Take anti-inflammatory drugs, muscle relaxant or apply hot pack can reduce these symptoms.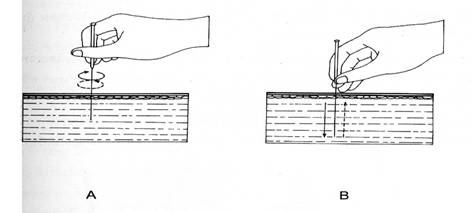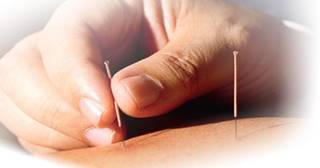 Eastern Acupuncture.
Eastern acupuncture used to balance the body's Yin and Yang , need to analyze the symptoms of the disease in Chinese theories by exam the pulse and tongue. The acupuncture points use in near and far points to balance the Qi (Vital energy) and may use electrical stimulation to increase blood flow and reduce the pain associated with it.
The advantage is used to treat a variety of diseases, according to World Health Organization estimates more than 30 certification (Read more in in Topic of Eastern acupuncture indication).
The disadventage is take more time in each treatment session, maybe need 5-10 times / course for 2-3 courses, depending on the symptoms and the disease.
Reference.
1. Travell & Simons' Myofascial Pain and Dysfunction: Trigger Point Manual, 2nd edition, 1999.
2. Li Shizhen' Clinical Application of Commonly Used Acupuncture Points, 2007.
3. Neck and Arm Pain Syndromes : Evidence-informed screening, diagnosis and management, 2011.
4. 4. Myofascial Pain Syndrome ; Associate Professor Pradit Pratepawanit.

Edited by : Dr. Supannee Amnuaypornsathit, Physiatrist.